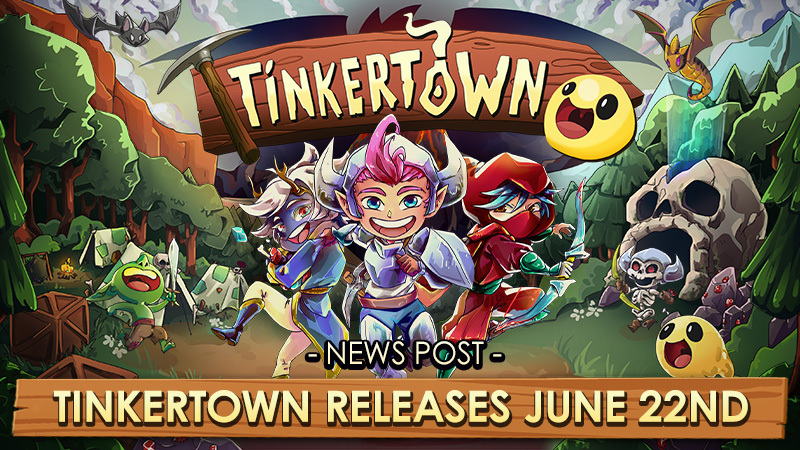 Dear Tinkerers,
We are so very proud to announce that Tinkertown is going to leave early access and launch as version 1.0 on June 22nd!
With the full release, our long hours of hard work will pay off, as we finally get to let everybody experience the best version of Tinkertown. Check out our freshly baked trailer, listing 10 things you can do in the game right now!
If you don't own the game yet and want to check it out at launch – hit the Wishlist button and we'll remind you when it's out! There is a lot of good stuff coming, either as a part of the game hitting 1.0, or in the future. Just look at this fine list!
A journal to gather all the cool information in the game in one place
NPCs will get a bigger role, with a relationship system put in place to give them a more active part of gameplay
We're adding an endgame dungeon with an additional boss fight, and some special loot for you after defeating the boss
After launch we'll have new types of events and community activities
So, as you can see, hitting 1.0 does not mean the end of the road in terms of updates! We will continue to fine-tune the game and add content, to keep you coming back to Tinkertown.
In the future we will also do a big database rework, which will allow us to add cloud saves and make several changes to the backend that will benefit the game going forward.
But now we are super interested to know if you have questions or ideas for Tinkertown beyond the games' launch. Our Discord server is the best place for those discussions, but the Steam forum is of course also a great way to make your voice heard.
A truly heartfelt thanks to all of you that support us and engage in our beloved Tinkertown. You mean the world to us.
Now let's get excited for version 1.0!
(Pssst, as a bonus – we are now verified on Steam Deck! So you can bring your cozy town with you wherever you go!)

(Pssst, as a bonus bonus – we also have a small patch ready for you right now. Neat list below!)
Early Access 0.17.3
Fixed the Master of Craft achievement bug
Fixed a bug where some buttons have to be pressed twice
Minor bug fixes