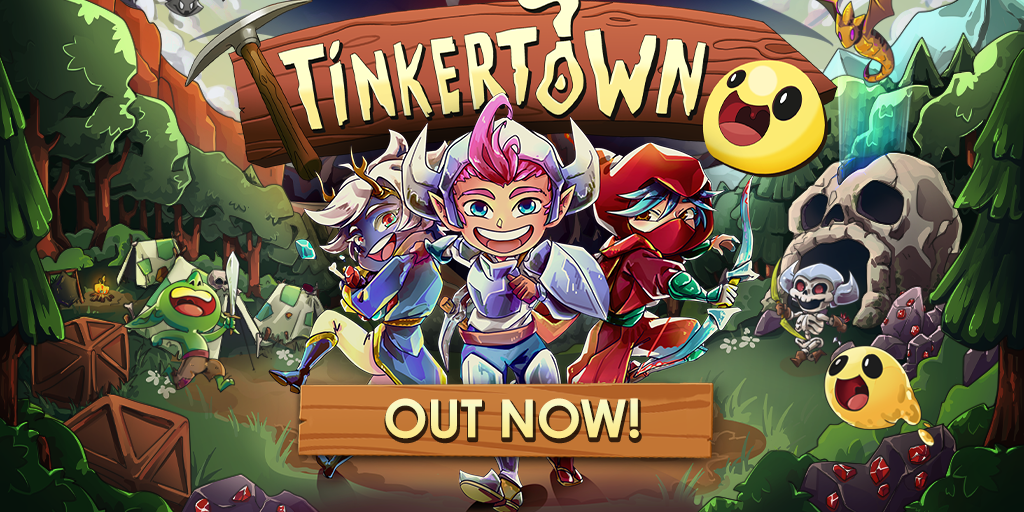 Happy release day, dear Tinkerers!
Grab your backpacks; the day has finally come! After more than three years of development and Early Access, we are happy to announce that Tinkertown 1.0 is finally out! ːsteamhappyː
We are super happy and proud of what we have achieved, and it has been a lot of fun putting it all together! We hope you will have as much fun exploring the world and all the dungeons, and we can't wait to see all the towns you build and the adventures you go on!
So, now that Tinkertown is fully released, we wish you all happy adventures!
With Tinkertown 1.0, we have added many exciting features for all you new and experienced adventurers out there. When reaching the end game, you will be met by our new void dungeon and even a new boss fight. Do you have what it takes?
You also have a journal to help you with your journey through the world. Here you can find what monsters, areas, and recipes you have discovered and which ones you are missing.
And to make the world feel even more alive, we have given all NPCs a "Love-o-Meter," which fills when you follow their questline and build their dream homes. If you fill their meters – maybe they'll even reward you!?
These are all the changes, enhancements, fixes, and tweaks included in update 1.0:
Added Void Dungeon
New Bosses and Rewards
New Questline
Added Journal that displays your findings:
Shows defeated enemies, their locations, spawntimes, drops, and lore
Shows Townians, their quests, info, and likes
Shows Recipes and Items, everything you can find in Tinkertown, and what you can craft out of it
Shows Achievements and progress towards
Added new unique effects for every Weapon in the Game!
Added the Happiness Meter (Love-o-Meter) to Townians.
Make them happier by decorating their houses with things they like (rewards will be added at a later time too)
Added two more supported languages:
Brazilian Portuguese
Spanish
Additional Fixes:
Fixed an issue sometimes causes players to die in the ocean
We would love to hear your feedback on Tinkertown 1.0, so please join our amazing Tinkertown Discord to meet other tinkerers or say "hello" to our teams.
Happy, full release day to all of you!
The Tinkertown Team